Flower Festival and Summer Madness Discounts
Flower Festival Medellin Apartments Available
Reserve today while apartments in Medellin Last!




Paradise Realty in Medellin and Santa Marta Colombia
At Paradise Realty we specialize in international real estate services, we are a name you can count on! The New York Times just featured us in their International House Hunters article on August 25, 2010. This meant a lot to the local community and of course our agency. Medellin, Colombia is a beautiful place to buy a home or invest. Property values are still under priced compared to other parts of the world. The article is proof that Medellin has arrived and is now receiving world wide recognition as a favorable place to live and buy a home. Paradise Realty was honored to have the chance to work with the New York Times on this article. The article went into detail over the local real estate market and featured one of our penthouse sales and vacation rental properties listings. Click here to see our listings of buildings and apartments for sale in Medellin and surrounding areas. We now have major commercial buildings for sale in Medellin with high rental renturns..


Featured Properties on Sale in Medellin this Month:


Featured Furnished Rentals in Medellin this Month:


Real Estate Investments:
There is nothing more important than protecting your investment in real estate. For this reason we have partnered up with Visas y Tramites Internacionales as they provide the legal representation needed to investigate and clear titles for our customers. From the background investigation of a title to the careful inspection of all documents provided by sellers, nothing slips by their lawyers. Providing clean titles is just as important in Colombia as in other countries. Additionally personal identification documents, along with the certified property documents must be verified with local authorities to insure your dealling with geniun documents and that a legal transaction is taking place. With experienced real estate lawyers and agencies your sure to cover your basis. www.ColombiaInvestorsVisa.com
Our transition team will make your move to or investments in Medellin Colombia a smooth process. From banking, immigration, to legal representation we have the contacts necessary to make sure your real estate transactions are handled with the utmost care, and confidence. Paradise Reatly is a licensed real estate company located in Medellin Colombia. To buy real estate click here: buy medellin property & real estate. To sell real estate in Colombia click sell medellin real estate. Of course if you are looking to rent medellin apartments please see our vacation rentals below.

[Paradise Realty - Internatitonal Realtor ]



New York Times Featured
Paradise Realty in their Colombia House Hunting Story on 8/25/2010

Medellin Apartments and Real Estate

Colombian real estate law is different in some ways from what you may be used to, however Colombia has strong laws to protect property ownership by foreigners who purchase property here. All that is needed to register your deed legally is a valid passport! Of course there are a few legal steps you should go through, such as using a lawyer to verify the title and sales contract are in good standing. Colombia encourages foreign investment, and has increased security in recent years which has helped Colombia to attract many foreign investors in the past 5-6 years. The Hollywood images of Colombia are not an accurate depiction of real Colombia every day life. Colombians love foreigners, and Medellin is probably the closest thing to heaven on earth. The people are famous for being the friendliest on the planet. Thats what makes selling homes here so easy! Colombia is at the beginning stages of the foreign investment boom in real estate, which Costa Rica and Panama have just experienced. Compared to the rest of South America the property is currently highly undervalued in Colombia.

Medellin Eeal Estate sector: remains healthy, with only a slight reduction in sales over last year. Government subsidies for the lower and middle class have supported the real estate market while major markets in the world are suffering. Medellin real estate sales are increasing this year after having a slow year in 2009. in 2010 we are looking for an average across the board increase of 10% in property appraisal values. Commercial rental occupancy rates remain steady through out the city. You can read more in our Medellin real estate market report by clicking here.

Be sure to check out the story in the New York Times regarding house hunting in Colombia. The story focused on one of our properties. The article covers market prices, along with typical closing costs and procedures in Medellin, Colombia in detail.


Medellin Real Estate Investments

Medellin Real Estate Investments: Most foreigners are finding high value in properties at least 4 years old. New properties are selling at up to 3.6 million pesos per meter. Older offerings are between 2 million to 2.6 million pesos per meter. Older apartments are more resistent to swings in markets when the prices correct because their prices are already much lower. When an economic swing occurs the newest places get the hardest hit because prices are highly speculative. Colombia has seen

Colombian Economy: The economy shows signs growth will continue for another 3-5 years. Their no signs of this emerging economy slowing growth, New trade deals with major econoimies, national security and politics are maintaining a very stable environment allowing for growth in the emerging markets as other countries have been suffering. Colombia has been growing and is supported by new trade agreements with the United States which just went into law on the 15th of May, 2012. Colombia also has trade agreements with Canada and European markets. While real estate is an indicator of financial stability of a country we must point out that the stable increase and growth of exports from Colombia, and imports to Colombia show no signs of weakening. Colombians are buying more than ever in history, and credit is tight here with best rates around 10% for home loans.

Construction Projects are On the Move: In a time of global recession one often hears of McDonalds, and stores like Walmart making big gains as people cut back on spending. That's goes equally in real estate as the big demand has moved into the middle to lower income neighbourhoods. These are the overlooked areas where one can expect to make big gains with conservative investments!

Medellin has a huge demand for affordable furnished apartment rentals in neighbourhoods zoned as estrata 4, and 5. We are seeing new buildings going up in these areas now, and we expect more foreigners to be living in areas near UPB university to study spanish, and enjoy the lifestyle and nightlife surrounding the newly renovated calle 70, of Laureles. In and around the Laureles areas it is safe to live for a foreigner.

[about Medellin real estate market]

Property Management:

Paradise Realty offers modern real estate management services for properties (administracion de inmuebles en Medellin) owners in Medellin Colombia. Currently Paradise Realty offers short term, and long term property management solutions. Our list of happy owners and partner agencies in the furnished apartment business has surpassed 100 properties this year! With the addition of the Paradise Studios building we will be engrafting our online building administration services which will enable all owners to check the status of bills, occupancy rates, and property maintenance.

As we rent apartments we are in charge of all repairs and maintenance while our clients are in the apartments, and in other cases we manage empty properties while owners must be traveling around the world. Modern communications allows us to stay in touch with owners across the world. From keeping utilities and bills paid while your away to repairing your property Paradise Realty in Medellin keeps your property in shape while your away. Many of our international clients offset expenses by renting furnished properties while they are traveling, or working outside of Medellin Colombia. Contact Paradise Realty for high quality property management services in Medellin and Santa Marta. Realtor management services you can depend on 24 hours a day, 7 days a week, all Colombian holidays included. Free consultations for property management!.



Visas y Tramites Internacionales
(Qualify for your Residency Now)
New Colombian Visa Reqiurements
Medellin (57-4) 444-66-34
Miami (1) 305-767-2766








Medellin Apartments:

Furnished apartments in Medellin make you feel at home away from home. Medellin apartment rentals give you security, comfort and privacy at a fraction of what a hotel would cost you. All apartments include high speed internet, security, and you don't get hit with high hotel taxes and fees for friends that spend the night! We are a registered Medellin Colombia Realtor (inmobiliaria en Medellin Colombia).

Medellin Fincas:

Fincas en Antioquia: We have fincas near Medellin (country houses and cabins (fincas Antioquia), a favorite Colombian past time for short and long vacations with Colombian families and friends. Highly recommended for relaxing, and romantic weekend getaway vacations. All Colombians love having the opportunity to get away to Colombian Farms, or fincas. Many fincas are simply beautiful houses in the tropical country side with fruit trees, a swiming pool, and a big tikki hut for cooking huge bbq's. Medllin tourism is on the rise, check out the info below on tours, or click here: Turismo en Medellin


Medellin Hotels:
We also offer several economic El Poblado hotel room rentals in small local hotels as well. Small boutique hotels, and hostels offer a personalized touch that you wont get in a big commercial franchise chain hotel. Medellin bed & breakfast hotels offer a family friendly hospitable environment, with a personalized touch. Hang out in the Medellin Tiger Paw Hostel for a few days in a nice neighborhood and get to know some other travelers from your home country. Its always nice to have someone to hang out with while your on vacation, since most the locals do work pretty hard. [Medellin Hotels]





Life in Medellin:

Medellin Tours:

The Next Chapter of Your Life Waits:
Reinvent your life, start a new business, learn a new language, learn a new culture, retire in Colombia, find a compassionate girlfriend, or boyfriend. What are you waiting for? Ask us about relocation services, cost of living in Medellin, Colombia, and Colombia residency. Don't miss this exciting time as Medellin is being reborn. Medellin is full of many opportunities, a few challenges, and well worth it the time.

Life in Medellin:
Learn about the Medellin culture; the people of Medellin, local music, art, history, dating, and life in Medellin. As a person that has lived in many large cities in the United States, I can honestly tell you that Medellin is safer than most large cities in the United States. Medellin is a model city, and a modern miracle. Medellin is a city that has recently been studied and documented as a transformation miracle. Medellin is at peace with itself, and the people are among the friendliest in the world. [Medellin Dating]

Medellin Climate:

Medellin climate is steady all year round. Click here to see the current

Medellin weather

and temperature on Goggle. You will find the temp average for all months of the year is constant. The Average temp stays in the mid 70s year round. The Medellin rainy season comes around 2 times a year, but generally speaking this just means that its probably going to rain a bit more than the drier season. The rain fall is not as heavy and does not last as long as Panama and Costa Rica for example.

Passports and Visa Services:
Wether you need a Visa for yourself or a loved one we recommend the services Visas y Tramites Internacionales. Pick from any number of types of residency visas for the United States, Colombia, or Spain. The most popular visas with our clients from the USA right now are the K1 Fiance Visa and Spouse Visa (K3 / CR1 / IR1):



Follow a Colombian Gringo on Facebook for Colombia Travel Discounts




COLOMBIA TRAVELER SERVICES:
From private cars with drivers, car rentals and translators services in Medellin. We offer a range of traveler services designed with the casual or business travelers needs in mind.

Which officer a variety different types of tours, from Medellin shopping tours, village bus tours, to industrial and city business tours. We have a wide variety of tour packages to keep you busy and use your time efficiently on your next trip.

Traveling to Medellin Colombia you can experience non forgettable vacations with Colombia Tours, Cultural Events, and of Course the many festivals and events in Medellin Colombia.

Travel Documents for Foreigners and Colombians living abroad: Visas y Tramites Internacionales are experts at getting legal documents apostillized in Colombia, (Colombia Apostille and document legalization) from any country. In addition they certify, translate, and / or for visas, passports, business, marraige, etc. Notaries en Colombia click here. Colombia Consulates and embassies listed here, click here.

Getting Married in Medellin? Perhaps your taking your fiance to the United States, Europe, or Austrailia. Either way be sure to read up on the rules and legal issues with the experts at ColombiaVisas.com. You will find all the answers you need to prepare for marraige in Colombia or take your loved one over seas. click here

Medellin: We offer booking assistance for Medellin tours, Translators, Personal Drivers, Pueblo Tours, Ecotourism, local events and activities.

Santa Marta: In our new Santa Marta office we are expanding tourism and real estate operations to offer a more complete package tour of Colombia to our customers and friends. Discover the Colombian Indeginous (Colombian Indian) culture.


Siga Turismo en Medellin para discuentos

| Medellin Tourism Group on Facebook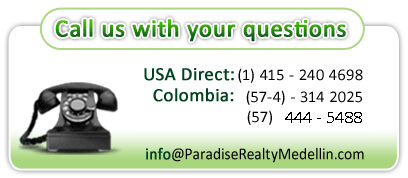 We have completely furnished short term temporary
vacation apartments for rent
in upscale Medellin neighborhoods. We offer full scale property management services. We are the local experts when it comes to conducting real estate transactions. Weather its selling or buying real estate in Medellin, Paradise Realty takes the headache out of the process. Ask for our free real estate guide if your going to be purchasing property in Medellin Colombia.